Chianti Area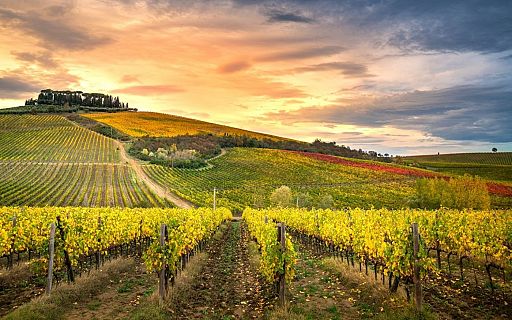 Chianti, the area of rolling hills stretching between Florence and Siena, Arezzo and the hills of Pisa, has long been considered the "heart of Tuscany". Its splendid landscape is dotted with dense vineyards, chestnut forests, oaks and maples, attractive medieval villages, romantic castles and charming colonial farmhouses. It is also the birthplace of one of the world's most famous red wines: Chianti.
Chianti is the ideal getaway for those wanting to experience medieval villages and romantic vineyards tucked away amongst rolling hills. From village to village, one discovers country castles and farms featuring numerous wineries and enoteca (wine shops and bars) for enjoying the fine local wine. The legendary origins of the Clante (named for a stream known since the Etruscan era) along with its winemaking tradition have made it famous worldwide.
Podere del Chianti is a century old luxury villa located between Florence and Siena. It has been recently renovated with an eye to traditional style and touches of luxury.
The 'Tre Querce Cottage' is a very intimate refuge completely surrounded by the trees and woods with all comfort and facilities and one pool within walking distance overlooking the countryside.
From 1,458.00 € per night
Castiglioni is a charming, panoramic villa in the rolling hills of Radda in Chianti which looks out over vineyards and olive groves. Villa Castiglioni is situated in the heart of Chianti.
Relax on one of the large private terraces and at sunrise and sunset, when all is calm, you may glimpse the deer, rabbits and pheasants that populate the extensive grounds. Villa Edera is independent, finely restructured and comfortably furnished.
Nice country house with private pool situated on the hills near the small town of Greve in Chianti. This property is part of a small, ancient hamlet surrounded by olive groves and vineyards producing excellent olive oil and Chianti wine.
Villa La Veduta is an elegant and superb XVIII century villa. It is furnished with valuable antiques and thanks to its hilltop location you'll have the pleasure to admire simply stunning panoramic views.
The owners at Villa Maria paid great care to the restoration of the villa to make it the perfect place to relish the country's relaxing serenity and quiet enjoying the panoramic views of the Tuscan landscape.
From 1,458.00 € per night
Every season is perfect for a trip to Chianti, that hilly area of Tuscany world famous for its picturesque landscapes and excellent wines.
Villa Spicciano is an ancient semi attached Villa recently restored and equipped with any confort you may need. The villa can accommodate 12 persons in 6 double bedrooms all with ensuite bathrooms with shower.
Immersed in the green countryside of the Chianti hills, surrounded by the typical olive groves and vineyards, Villa Tavarnelle is a centuries old farmhouse which has belonged to the Fusi family for many years now.